GEHOLIT+WIEMER - a part of the KABE Swiss Group
Do you already know the KABE Swiss Group? We would like to present it in our image video.
The KABE Swiss Group has its headquarter in Gossau (Switzerland) and is a group of 10 internationally active companies to which also includes GEHOLIT+WIEMER.
Come on a journey with us and discover our varied KABE world of colours.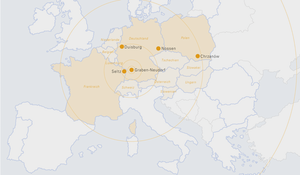 One of the main factors behind the success of GEHOLIT+WIEMER is our long-term relations with our customers, which are based on trust.
We offer investors, planners, engineers, steel workers and coaters fast and effective advice from our experienced field staff and applications engineers, as well as specialists in the research laboratory.
Our three sites in Germany, each with the appropriate logistical facilities, ensure that deliveries are made on time. In Europe, we have subsidiaries in France (GEHOLIT S.a.r.l.) and Poland (GEHOLIT POLSKA Sp. z o.o.).
And in other European countries, GEHOLIT+WIEMER partners are there to support our customers. All of these have access to all of our company's technical expertise. This is very valuable when it comes to handling large projects involving several countries.