QUALITY SHOWS ITS COLOURS SINCE 1889
GEHOLIT + WIEMER is a medium-sized family business with roots dating back to 1889. Since then, we have always been committed to meeting the demands of a manufacturer of coating materials.
To protect process operators any constituents recognised as critical are removed from our compositions at an early stage. New formulations enable us to provide the latest solutions at construction sites and in industrial establishments.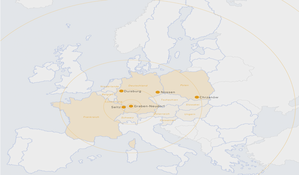 One of the main factors behind the success of GEHOLIT + WIEMER is our long-term relations with our customers, which are based on trust.
We offer investors, planners, engineers, steel workers and coaters fast and effective advice from our experienced field staff and applications engineers, as well as specialists in the research laboratory.
Our three sites in Germany, each with the appropriate logistical facilities, ensure that deliveries are made on time. In Europe, we have subsidiaries in France (GEHOLIT S.a.r.l.) and Poland (GEHOLIT POLSKA Sp. z o.o.).
And in other European countries, GEHOLIT + WIEMER partners are there to support our customers. All of these have access to all of our company's technical expertise. This is very valuable when it comes to handling large projects involving several countries.